About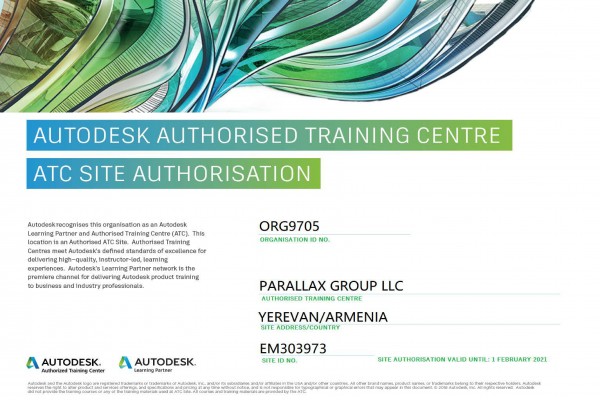 Parallax Group offers specialists to master Autodesk software products in its certified training center with experienced qualified instructors. We provide training for all Autodesk products.

Autodesk makes software for people who make things. If you've ever driven a high-performance car, admired a towering skyscraper, used a smartphone, or watched a great film, chances are you've experienced what millions of Autodesk customers are doing with our software.

Parallax Group Training Center is certified by Autodesk. The assigned status of an authorized training center Autodesk ATC (Authorized Training Center) guarantees high quality education with the support and supervision on its part. Each instructor undergoes compulsory training and certification on software products of his own field, which makes it possible to convey the most relevant and useful knowledge to students. The status of an official training center also makes it possible for students to receive an internationally recognized Autodesk certificate upon successful course completion and final certification.
Who do we offer to study in our center:
professionals/specialists who are just planning or starting to learn Autodesk software products

confident users who want to explore the advanced features of the program

specialists planning to study highly specialized tools and technologies

corporate clients interested in advanced training of their employees
What will students receive after completing the training:
deep knowledge of the working principles and capacities of the studied software products

extensive practical experience gained while performing training tasks on real examples

the possibility of further independent work with software products

ability to find solutions to their professional tasks
Advantages of studying at Parallax Group training center:
individual and group classes

live online courses

daytime and evening education

the possibility of field classes at the enterprise for training specialists on the job

classrooms equipped with modern technology and licensed software

certified instructor with extensive experience in practical work and in conducting Autodesk products

the ability to adjust the existing or create individual training programs to meet the requirements and needs of customers

result orientation - obtaining knowledge and skills, rather than merely obtaining formal certificates